Adding beautiful and functional outdoor living space to a home renovation project is increasingly popular with homeowners who rediscovered their love of the outdoors in recent years. For those looking to add a pergola to their new outdoor kitchen, pool deck or patio project one of the first decisions is with which material to build their pergola. The most common material options are natural wood or high-quality aluminum. Choosing between a metal pergola and a wood pergola will affect the look, durability, maintenance demands, and functionality of your outdoor living space. So, let's explore some pros and cons of a natural wood pergola versus aluminum.
Pro: Wood Adds a Natural Feel to Outdoor Designs
Wood structures impart a warmth to outdoor living spaces that can play well with the surrounding nature and your landscape design. For rustic cabins in wooded settings, a traditional wood pergola can blend with its surroundings. Left untreated wood develops an aged look over time that can embellish a farmhouse-style design as well. Obviously, left untreated, natural wood will not last as long as treated wood nor durable aluminum, so there is a tradeoff.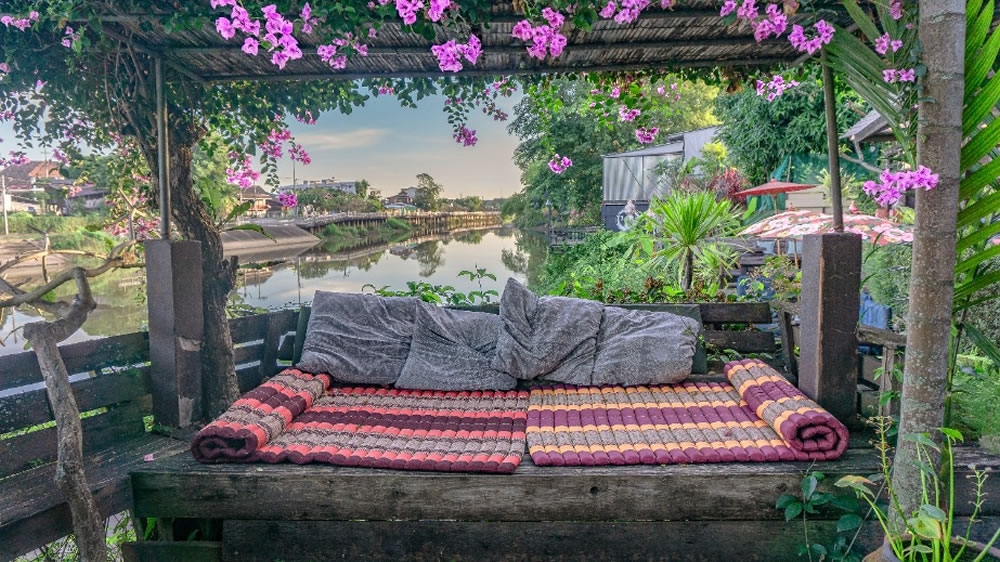 Pro: Natural Wood Can Be Painted
A natural wood pergola can easily be painted or stained in any color imaginable to fit into your home's outdoor style. In contrast, modern aluminum pergolas are powder coated to seal out moisture to prevent oxidation. While high quality powder coatings are extremely durable, choosing the color of the pergola is a quite permanent decision. With wood construction, there is a trade off on durability and maintenance requirements, but you can repaint the structure in different color schemes as many times as you would like.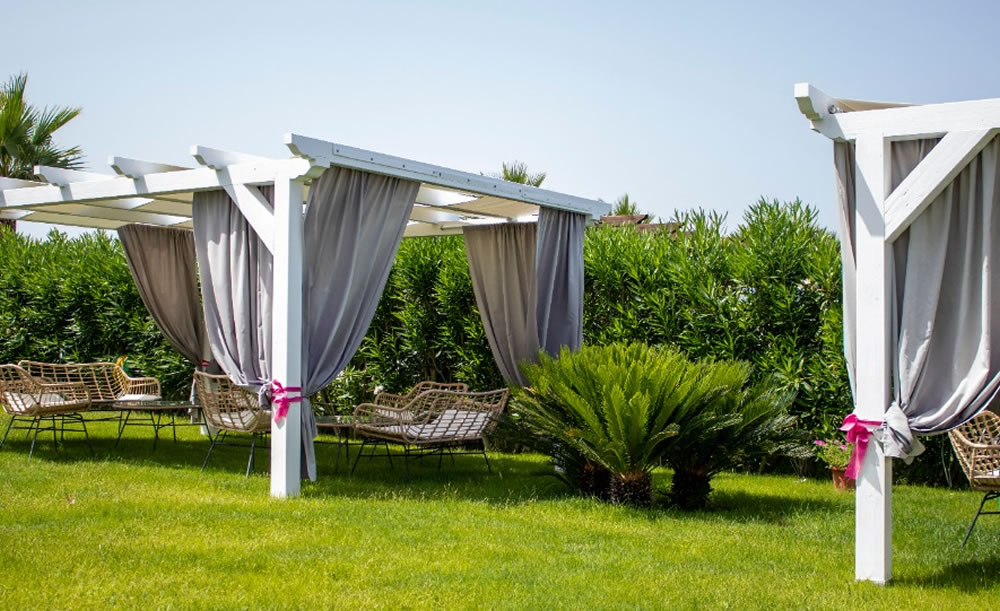 Pro: Easy Access to Maintenance for a Wood Pergola
Natural wood will require routine maintenance, as we'll cover shortly, but the upside of selecting wood for your pergola is the easy access to maintenance professionals. Annual painting, power washing, etc. is often a simple Google search away, and more complex maintenance like replacing rotting natural wood is often in the purview of a local handyman or skilled DIYer.
Con: Natural Wood Requires a Lot of Maintenance
As discussed above, outdoor structures crafted from natural wood require regular maintenance. Annual painting or restaining of the wood will be needed. A thorough inspection of the entire structure is also an annual necessity to look for any rotting sections. The base of natural wood support columns is a prime location for rot where rainwater runs down the columns or pools on the patio.
As an alternative for homeowners wanting to bring the look and feel of natural wood to their outdoor living space, a modern aluminum pergola can be powder coated with a sublimated wood grain to give the sense of a wood finish. Our nationwide network of pergola dealers also offers customers maintenance services so you can be sure a skilled expert is looking after your investment.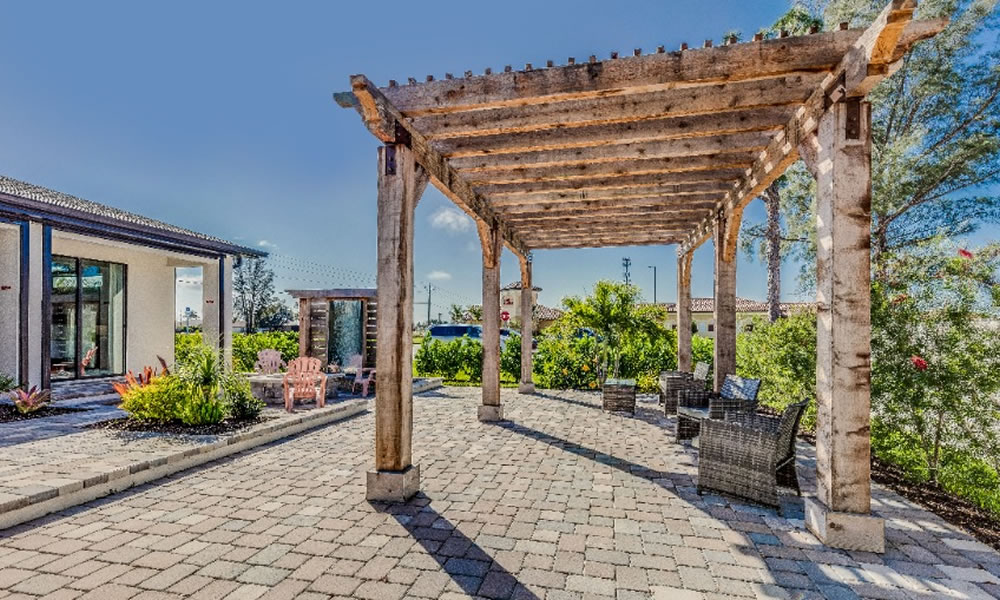 Con: Natural Wood is Less Durable Than Aluminum
It will be no surprise that a high-quality metal pergola will simply outlast a wood pergola. Aluminum durability is second to none, especially when your metal pergola is fabricated from the best quality aluminum and protected by the highest-quality powder coatings. These exterior coatings can be custom color-matched to fit the exterior style of your home, patio or pool deck, and they ensure long-term aluminum sustainability that means your pergolas will last a lifetime. These advanced materials and coatings are one of the reasons Azenco is happy to warranty our products for so long.
Con: A Natural Wood Pergola is Static
Aside from durability and maintenance, the biggest downside to choosing natural wood for a pergola over metal is that wood is very heavy and therefore reserved for static roofed pergolas. Our lightweight-yet-strong aluminum pergolas, on the other hand, can be outfitted with motorized louvers that can adjust to manage the sun/shade balance on your patio. Our unique dual-walled louvers can even close tightly and block out the rain, channeling all the rainwater to a hidden internal gutter system to keep the patio below dry.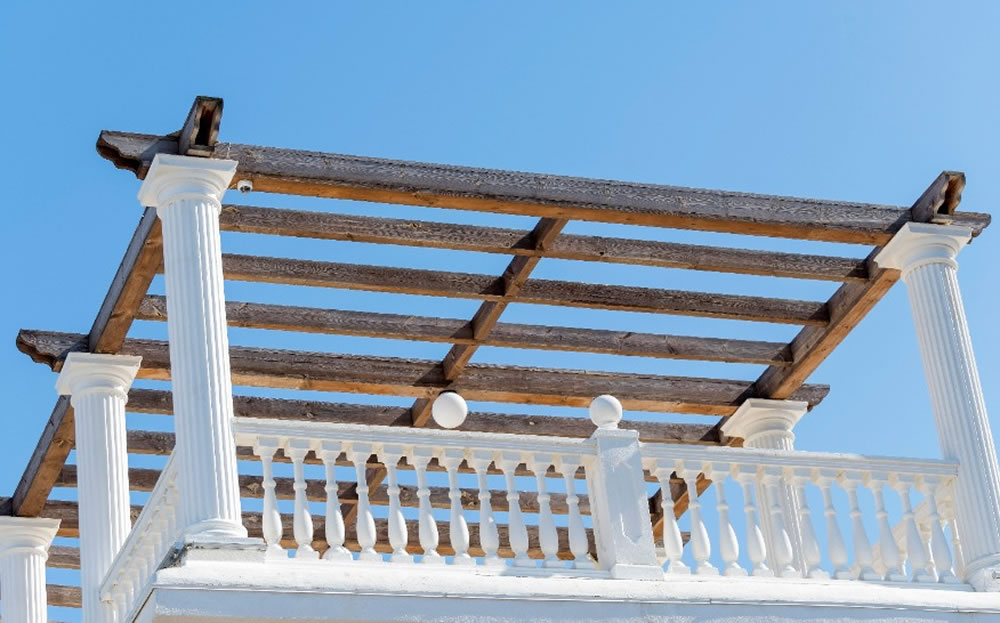 While natural wood does bring some aesthetic benefits to outdoor living design, overall, an aluminum pergola will ultimately prove more durable, easier to maintain, more feature-rich, and will provide far greater flexibility to your patio, pool deck or outdoor kitchen. If you would like to explore adding an automated Azenco pergola with wood finish or wood frame to your outdoor living space, contact us today and we will connect you with one of our local expert dealers.