Azenco Outdoor attended the HPBExpo for the first time earlier this year and featured the brand new modular pergola K-BANA, nominated for the category of best outdoor living room furniture and subsequently awarded the Vesta prize at the 2020 HPBExpo.
Nowadays, indoors and outdoors decoration is definitely a trend. People envisioned their outdoor space as a lifestyle and an investment. Gardens and terraces become dream spaces to enjoy with family and friends and add value to a real estate property.
The 2020 HPBExpo: Outdoor Industry tradeshow
This year's event was held at the Ernest N. Morial Convention Center in New Orleans, Louisiana. HPBExpo is sponsored by the Hearth, Patio & Barbecue Association (HPBA), whose main function is to represent and promote the interests of its members, from industry professionals to household industry associates.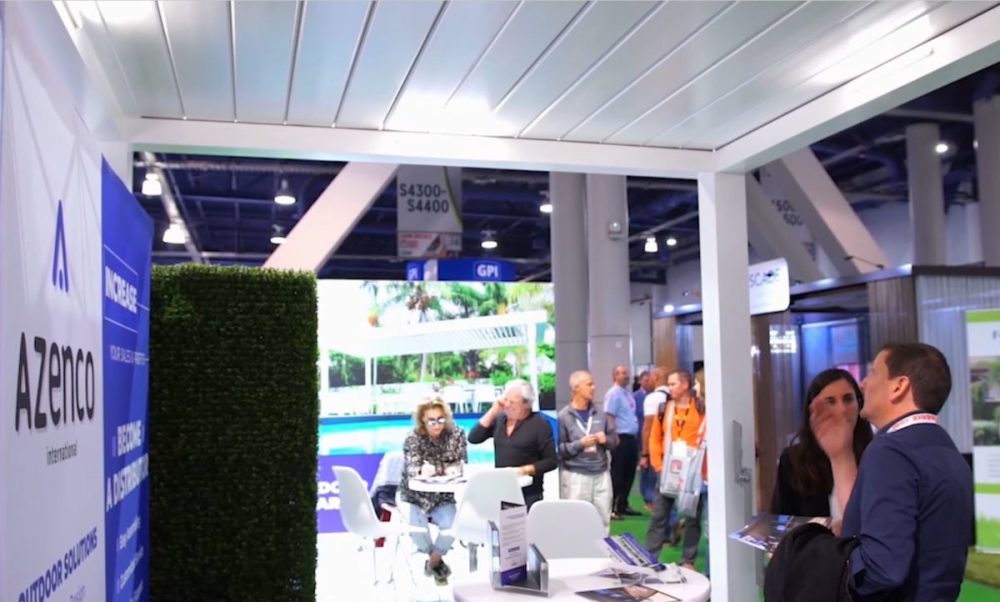 HPBExpo is, without a doubt, one of the largest outdoor living industry shows in America. This well-renown tradeshow hosts countless exhibitors, such as swimming pools, spas, outdoor furniture, barbecues, and modular pergolas, among other outdoor-related elements.
The tradeshow is only open to retailers, that is, all those belonging to this type of industry; such as contractors, specialized retailers, distributors, among others. In addition, attendees and exhibitors were also able to access educational programs.
K-Bana modular pergola Big winner: Outdoor Furniture Category
The Vesta Awards had several categories such as home products, outdoor products, and a special award category. In the category of outdoor products, you can find the section of outdoor furniture.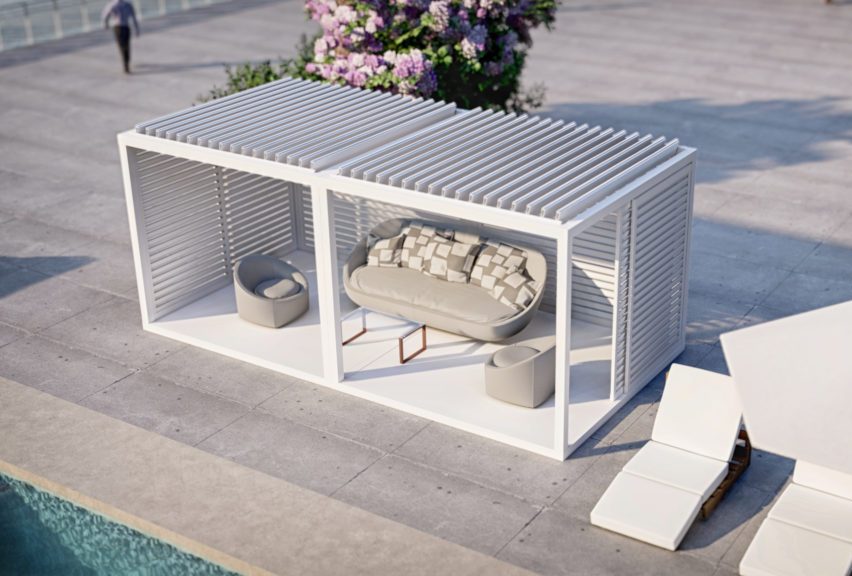 K-BANA, the free-standing pergola
Azenco was the big winner of this section, with its innovative K-BANA modular pergola design. This modular design surprised the judges, who appreciated the creativity and high-quality standards that meet the needs of the market.
The K-BANA pergola design was, without a doubt, the center of attention. Thanks to its incredible versatility, the K-BANA seduced the attendees as well as the judges. Its multiple configurations of modules and panels combined with dual-walled louvers are unique in the market. For all these reasons, the high-quality product is technically very performant and only requires a few hours to be installed. It allows you to control the rays of solar light perfectly, and it offers protection against winds, rain, and even snow simultaneously.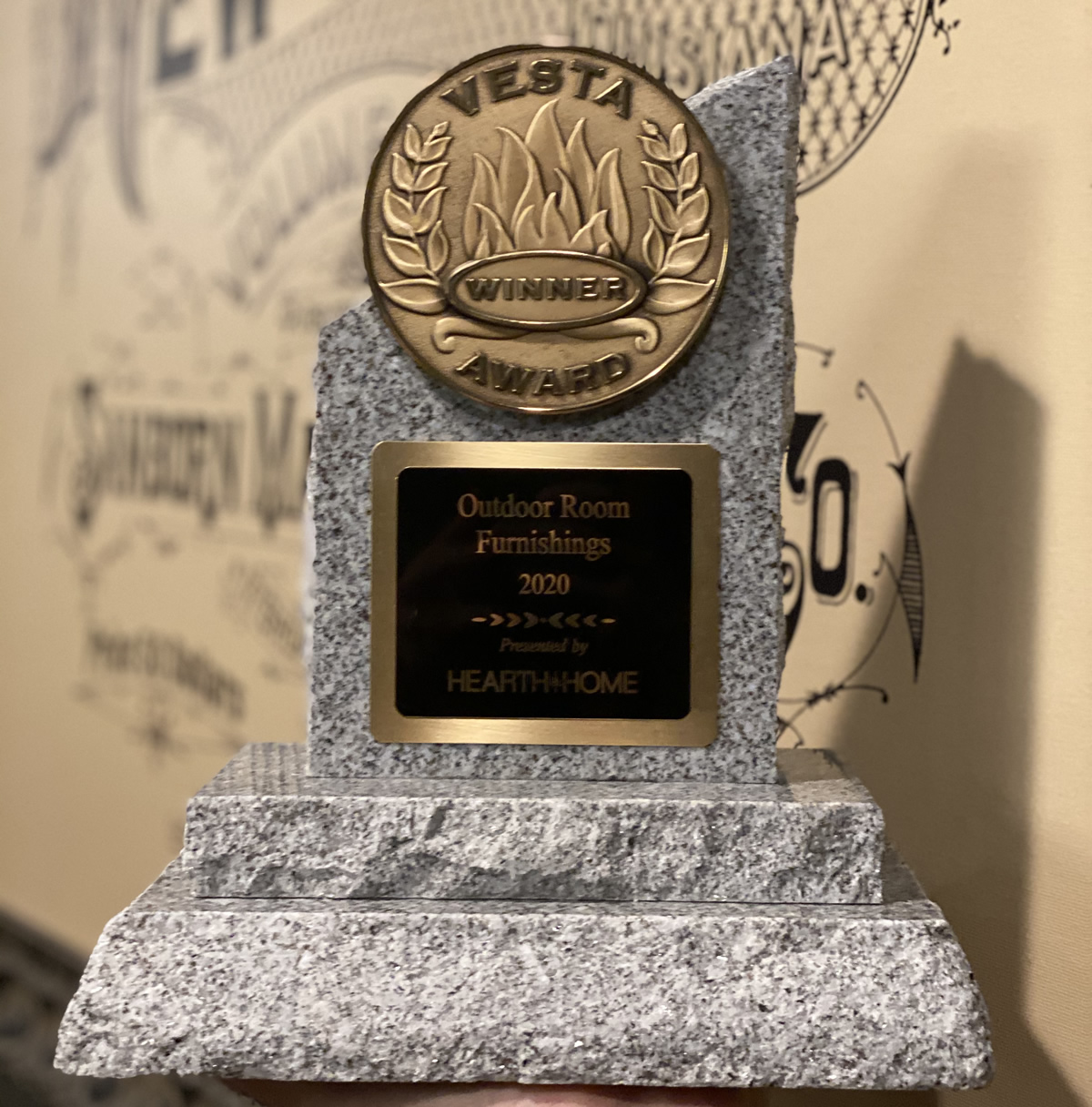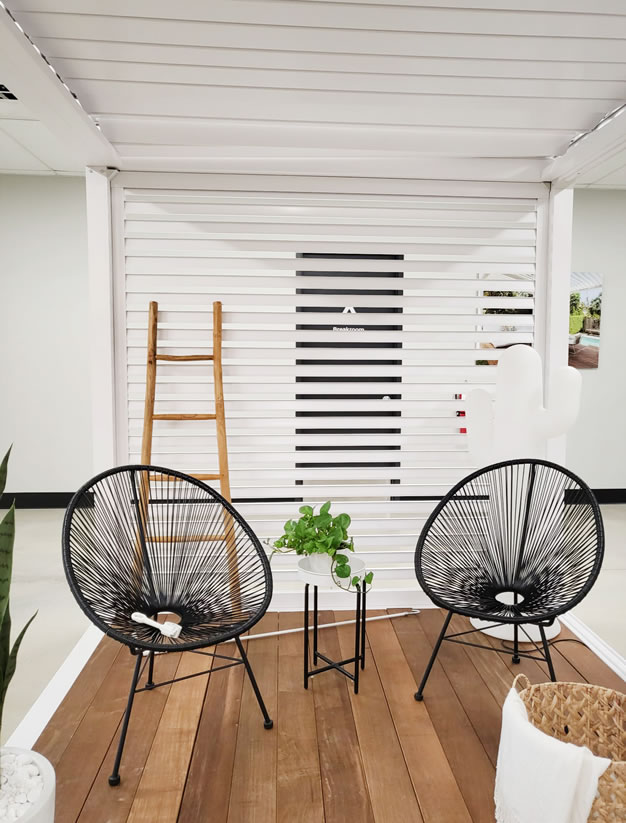 When the ground is unstable, the modular pergola, K-BANA is equipped with a base with extendable posts that allow stabilizing it.
Tradeshows such as HPBExpo 2020 clearly demonstrate the growth of the competition in the outdoor living industry. As a result, winning an award in a renowned ceremony such as the Vesta awards means expertise, quality, innovation and creativity.
Vesta Awards at the 2020 HPBExpo tradeshow
The HPBExpo 2020 is the setting for the Vesta Awards. Hearth & Home magazine created it as a way to encourage innovation in design and technology in the exterior design industries, thus helping the manufacturers themselves.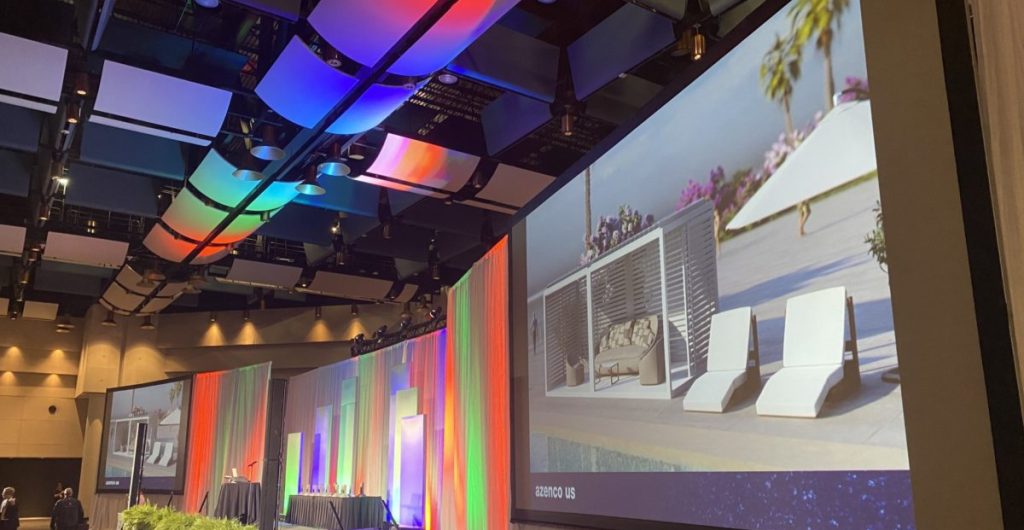 K-Bana pergola: Award Winner, Vesta Award Ceremony, HPBExpo 2020
The Vesta Awards panel of judges represents a balanced delegation of the home industry, including retailers, product designers, consultants, and industry professionals.  Issues evaluated by the prestigious panel of judges included original design, customer benefits, construction, technology and product positioning in the marketplace.
Attendees at the Vesta award ceremony are industry professionals mainly such as manufacturers, retailers, distributors and other partners. The award winners and finalists are honored to appear in the April issue of the prestigious Hearth & Home magazine.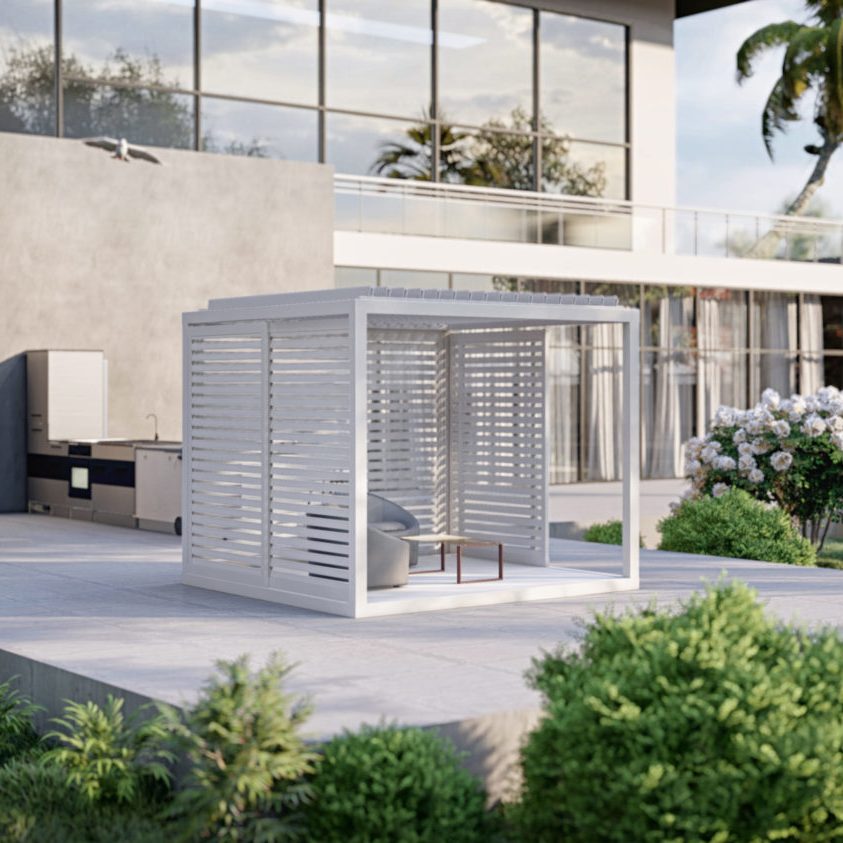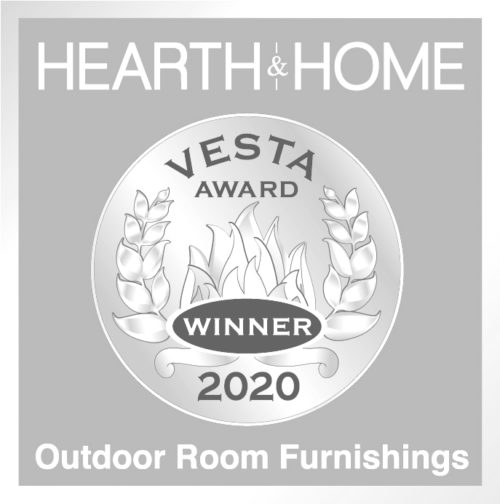 Upgrade your outdoor space with ease and elegance using K-BANA's award-winning modular pergola system. With manual louvers for customizable lighting and integrated gutters for seamless drainage, you can craft your own personal oasis in any part of your patio or garden. The beauty of K-BANA lies in its versatility, as it is available in three different sizes that can be mixed and matched for endless possibilities. Plus, the integrated floor frame ensures easy installation of any personalized finished flooring. This two-time award-winning system is perfect for both homes and businesses, offering a durable and flexible covered outdoor space that can be fully customized from walls to floors, giving you the beach cabana of your dreams.
Just like the K-BANA modular pergola, Azenco offers a full range of innovative outdoor products. Azenco proposes solutions adapted to the needs of each client. A team of specialists and technicians always works closely with contractors, architects, landscapers, and clients. The manufacturer provides an A to Z service and expertise with a cutting-edge manufacturing process, unique in the USA.