Adding a luxury louvered roof to your outdoor living space brings cooling shade to a sun-beaten patio. The structure also adds an architectural element to your outdoor space. Even a DIY pergola kit, which can be found for as little as $1,000 through online retailers, will enhance the look and livability of your sun-soaked patio. But to turn your patio into a truly luxurious outdoor destination, nothing will compare to structures with luxury louvered roofs. These modern pergolas go beyond simply creating shade to reach new levels of relation on your patio.
---
Luxury Louvered Roof System v. Static Louvered Roof
Simple pergola kits are basic structures. They often feature static roof slats that create partial shade as the sun traverses the afternoon sky. Static louvered roofs are unable to keep out the rain or full the sun. Today's modern luxury louvered roofs are entirely self-contained systems capable of fine adjustments to their louvers. The adjustable louvers can be positioned in the fully-open position to allow complete sun to reach the patio. Alternatively, the louvers can be angled to create the perfect amount of shade, or closed completely to create full shade on the patio. The louvered roof system built into the Azenco R-Blade Pergola is unique to the market as it is designed to not only block the sun, but also to completely block out the rain as well.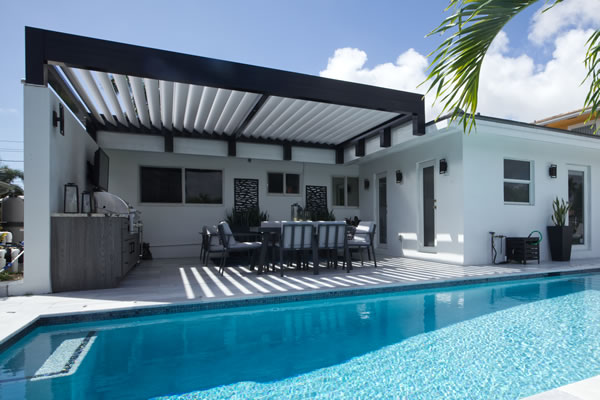 ---
Luxury is a Motorized Pergola Roof
Taking a patio cover to the next level of luxury, a motorized pergola roof puts louver adjustments in the palm of your hand. A simple handheld remote allows you to adjust the louvers without the need for manual hand cranks or extension rods to tweak the louvers. With embedded motors hidden in the aluminum pergola frame, a motorized roof means you do not have to interrupt your dinner party or take time away from the grill to adjust the louvers. Not all motorized louvered roof pergolas are the same, however. The Azenco R-Blade features dual motors rather than a single motor design found in most motorized pergolas. With motors adjusting the louvers from both ends of the pergola frame, we reduce the stress on the louvers to prevent warping over time. Warped louvers lead to leaky roofs, and our custom pergolas are designed to last a lifetime.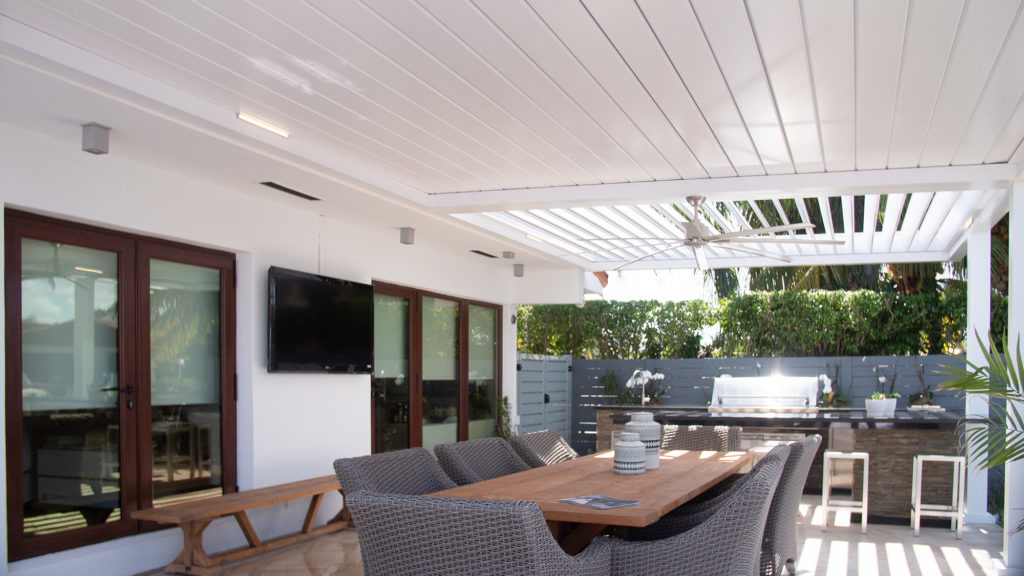 ---
Hands-Free Control of Luxury Louvered Roofs
With our modern high-tech pergolas, your luxury options extend beyond simply motorizing the operations. We can also turn your patio cover into a voice-activated pergola, allowing you to use simple voice commands via Apple's Siri, Google Assistant, and Amazon's Alexa. So, if you are in the house and see your loved one napping away the afternoon on the patio, you can simply tell Siri to close the pergola louvers to give them the shade they need to stay cool.
The highest level of luxury louvered roofs makes your pergola roof completely autonomous. With an embedded sensor array, your smart pergola will monitor changing weather and adjust the louvers as it changes. The sensor array will track rain showers and automatically close the louvered roof at the first sign of a shower. It will also monitor high winds, opening the louvers to mitigate updrafts when potentially damaging gusts blow through. For colder climates, a thermal sensor can watch for freezing temperatures and open the louvers to prevent snow build-up.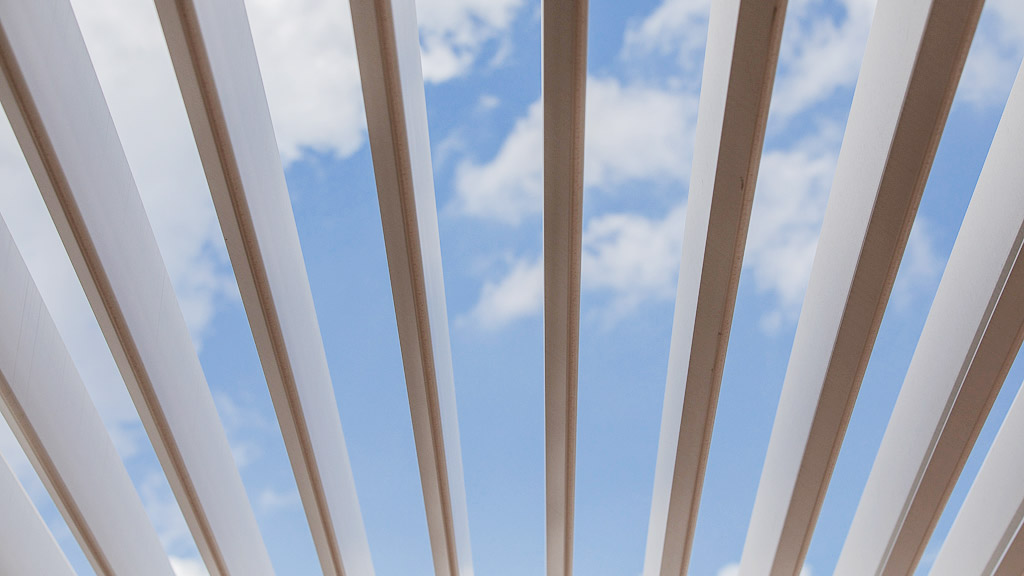 ---
Integrated Luxury Amenities
Beyond luxury louvered roofs, innovative pergolas also bring luxury amenities to your patio. To make your patio a more private retreat, motorized privacy screens can retract into the frame. Similarly, privacy screens can be swapped for insect screens to keep out mosquitos, or swapped for a sheer curtain material that can partially block the sun to create a luxury resort feel on the patio. Other cooling amenities like patio fans, misting machines, etc. can be easily incorporated into a custom pergola design as well as embedded LED lighting to keep the party going into the evening.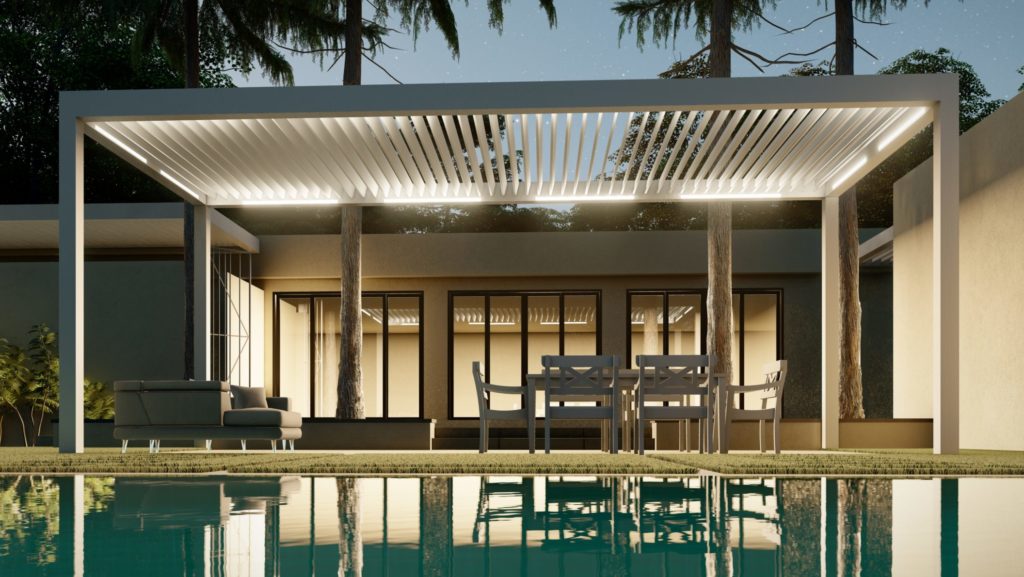 ---
Custom Pergola Colorways
Bringing a luxury feel to the patio might begin with the functionality of pergolas with luxury louvered roofs, but the style of those roofs is what will make a lasting first impression on guests. An automated pergola with a motorized louvered roof is fabricated from lightweight-yet-durable aluminum that is powder coated to prevent oxidation. We can customize the color of your pergola's powder coating to meet your home's unique style. You could opt for a timeless all white pergola, color match the pergola to your home's exterior, or choose a two-tone style with a frame to match the home and white pergola louvers.
---
Conclusion
If you would like to explore how pergolas with luxury louvered roofs will instantly bring a new level of luxury to your home, contact us today and we will have one of our expert dealers in your local area reach out for a consultation.
---