Here at Azenco we pride ourselves on manufacturing the highest quality, most-innovative outdoor living structures on the market. But, our commitment to perfection goes beyond simply becoming a master pergola manufacturer, we also want to push the boundaries of modern fabrication and building techniques to enable designers to create never-before-seen architectural marvels that rival true artwork. To drive this level of design and engineering innovation, Azenco looks to engage designers, architects, industry peers, and even the regulatory bodies which set the building standards. Modern outdoor structure materials and build techniques have evolved to make once-unheard-of engineering marvels a true possibility, and Azenco is working to make those visions a reality.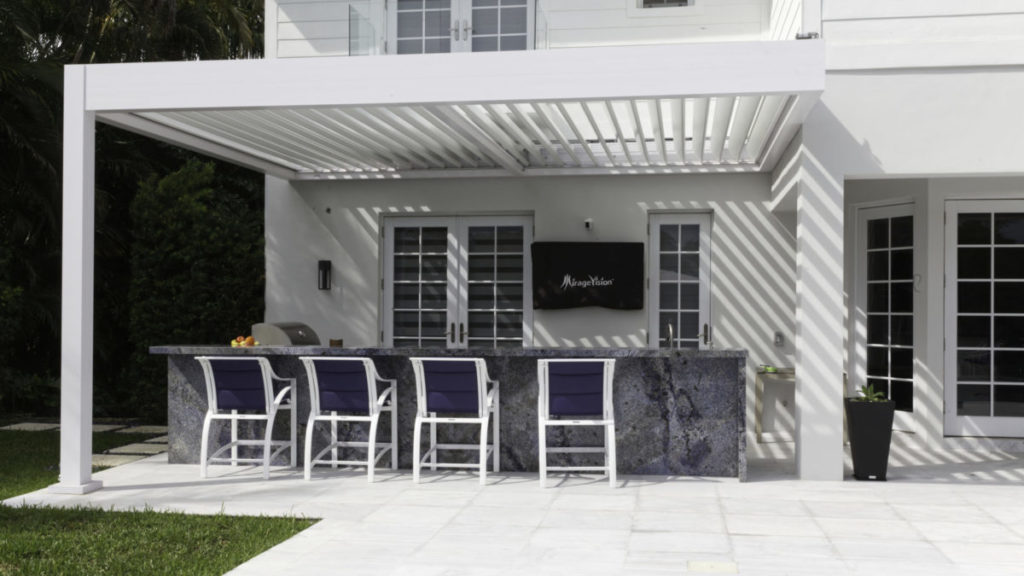 ---
A True Partnership with the National Association of Home Builders
The capabilities of modern materials and building practices routinely outpace the evolution of oft-archaic building codes. While these codes are crafted to ensure safe and smart building practices, without routine revision customers residential and commercial outdoor living projects can become aesthetically stagnant. We are hopeful that our expert insights can help regulatory officials become more comfortable with these innovative practices, thereby making customer's unique design dreams more accessible.
To ensure our 30+ years of expertise in designing and building exceptional outdoor living structures can be brought to bear on the ever-evolving industry guidelines, regulations, and laws, Azenco is excited to announce that we have joined the National Association of Home Builders (NAHB). The NAHB represents the largest network of craftsmen, innovators and problem solvers dedicated to building and enriching communities. From keen industry analysis that will help Azenco leadership forecast building trends, to educational offerings for our nationwide network of dealers, and opportunities to educate decision-makers keeping building codes up to date, our membership in National Association of Home Builders will help us ensure we continue to be the best outdoor cover manufacturer in the nation.
---
Exploring the Cutting-Edge Possibilities of Today's Modern Pergolas
Whether it's finding unique solutions to complex custom pergola projects or developing new modular cabanas like our K-Bana, Azenco prides itself on pushing the boundaries of how raw materials can be turned into elegant outdoor living solutions. As with any innovator operating at the edge of possibility, to make the unique vision of designers and architects a possibility we often have to invent the solution or a challenge. Over 30+ years in the industry, Azenco engineers working closely with company founder and CEO Charles Chapus have secured more than 30 unique patents on our designs and assembly hardware. As we continue to explore new possibilities for outdoor living systems, Azenco is always eager to share these innovations with the industry to help our colleagues push their boundaries as well.
---
Bringing Our 30+ Years of Expertise to Bear
Here at Azenco, we also intend to be a proactive partner for the national association. At our Miami, Florida headquarters, we leverage the most-innovative manufacturing techniques and the highest quality materials to create outdoor living structures that can stand up to hurricanes, sleet, snow and ice for decades. Together with our expert patio builders, deck building professionals and hospitality construction specialists, we've pushed the engineering boundaries for pergolas, cabanas, carports and pool covers. Given the unique design expectations of our customers, Azenco has been a driving force in the evolution of the building practices and techniques necessary to realize those stylistic visions. We are excited to work with the National Association of Home Builders to share the lessons we have learned through experience with our fellow association members.
---
Sharing Our Expertise
While our new partnership with the National Association of Home Builders is the latest part of our long-time commitment to expanding the possibilities for modern-day pergolas, Azenco leadership also routinely speaks at industry conferences and trade shows. Exhibiting our innovative product line at major industry events is a great way for architects, contractors, as well as current and prospective Azenco dealers to learn about our precision manufacturing process that helps make us the most specialized pergola builder in the market. Anyone interested in learning more about Azenco, and how we can bring even the most complex outdoor structures to life, can visit us at our expo booth S2600 during the upcoming NAHB International Builders' Show (IBS) planned for February 8-10, 2022 in Orlando.
---