The backyard pool is one of the pinnacles of outdoor living. The opportunity to slip into the cooling waters after a long day at work, or host family get-togethers is a homeowner's vision of the good life for many. So, how do you turn your wide-open pool deck into a functional-yet-elegant part of your home's style? With a luxurious pool cabana.
---
What is a Pool Cabana?
The pool cabana creates a shaded poolside space and is a place for guests to change into their suits or relax. The structure usually has a roof and one to three walls with the front of the structure open facing the pool. A pool cabana can be a very basic cloth tent or a more luxurious permanent structure. Permanent pool cabanas can be fabricated from wood. However, wood and pool water do not coexist very well, hence why luxury resorts around the world often turn to aluminum cabanas. For homeowners looking to create shade, privacy and a luxury entertainment space by the pool, a louvered cabana may be the ideal solution.
---
Shade on the Pool Deck
The primary purpose of a pool cabana is to create shade on the pool deck. With some protection from the sun, family and friends can better enjoy their time by the pool, and the pool deck becomes a relaxation destination rather than simply a path to and from the water. Whereas a permanent wood cabana can create shade, an aluminum cabana can become a far more flexible option. For homeowners envisioning the full-time shade of a traditional wood structure, a fixed paneled roof pergola like our R-Shade delivers a cleaner look and is requisite for all-day shade. To take full control of the sun/shade balance on your pool deck, an adjustable louvered roof pergola near the swimming pool like our R-Blade can allow the homeowner to open the louvers for full sun exposure, angle the slats to create shade, or close the roof completely to block out the sun and rain.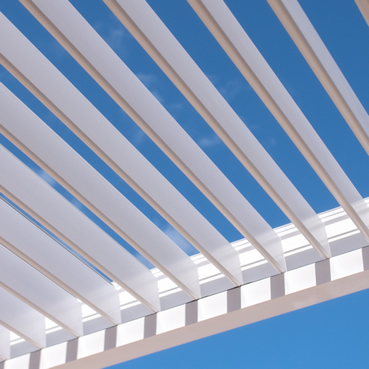 ---
Privacy for Changing, and Maybe a Nap
The second main purpose of a pool cabana is to create privacy on the deck. It is important that the structure provides enough privacy for guests to comfortably change into bathing suits. The ability to close up the cabana also makes it a wonderful place to nap by the pool. Many pool shelters accomplish this with manual roll-down curtains. An aluminum cabana, though, takes privacy to the next level. A modern structure can be designed with fixed privacy walls or motorized privacy screens which retract into the pergola frame. Combining fixed rear and side walls with a retractable privacy screen on the front of the cabana can also create the feel of a pool house, while providing secure walls on which to hang artwork, TVs, or decorative plant beds.
---
Pool Cabana Amenities
What really amps up the luxury level of a modern cabana is adding amenities that turn it from a simple changing room into a full-blown outdoor living space. Obviously, to bring the amenities of the indoors to the pool deck, a sturdy all-weather structure like a pergola is necessary. With sufficient protection from sun and rain, the opportunity to customize the pool cabana amenities is almost endless. For a luxury resort feel, add some comfortable day beds or couches. If family entertainment is the goal, bringing outdoor dining space, a wet bar, or even a full outdoor kitchen to the patio cover is ideal.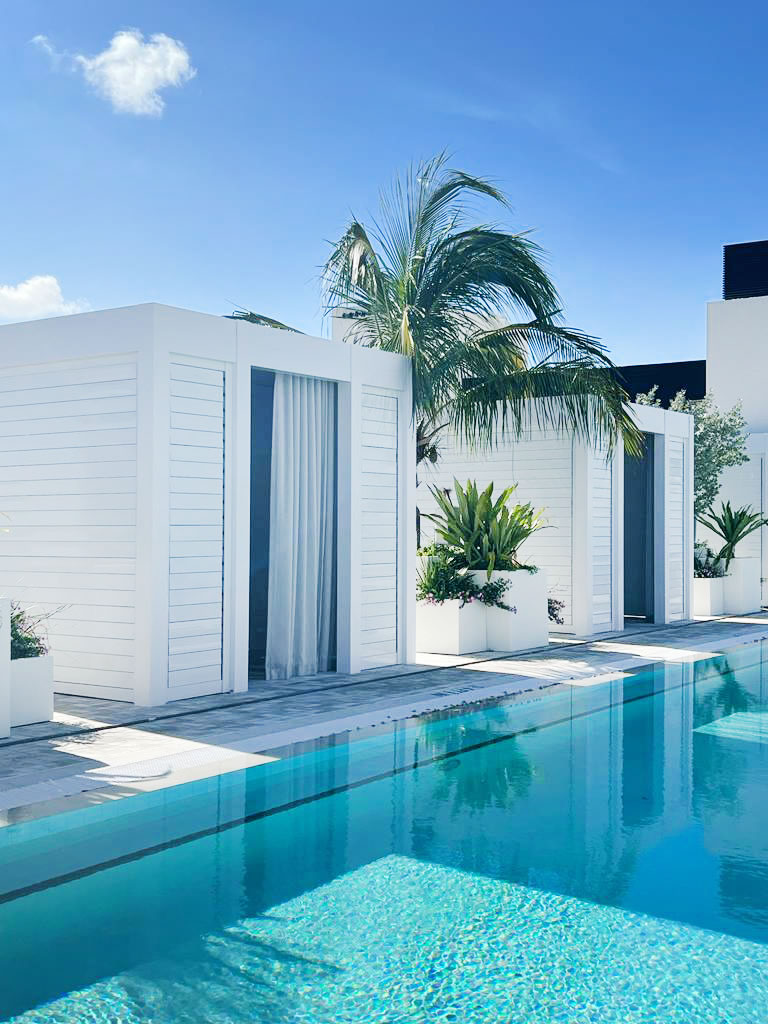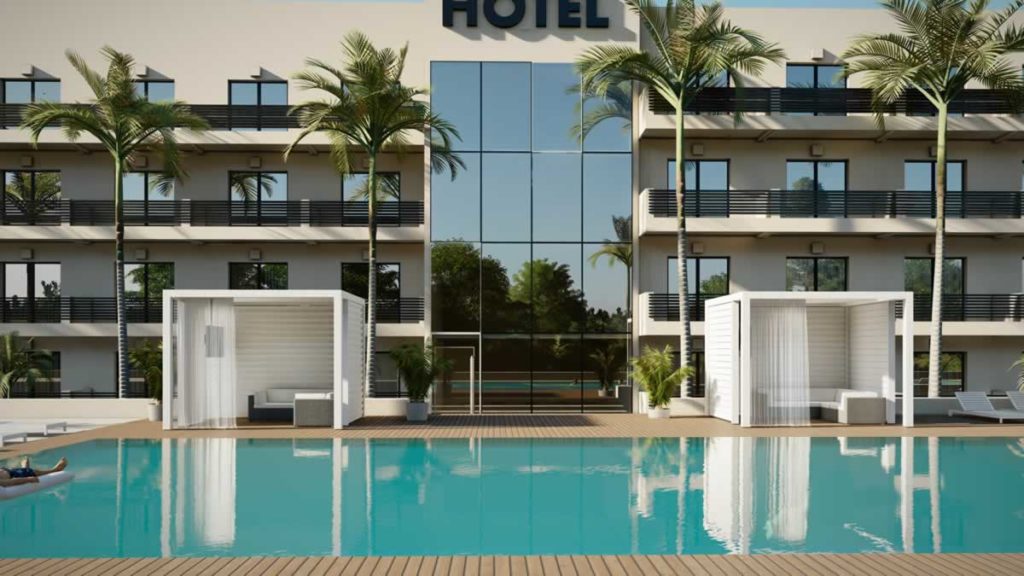 ---
What Does It Cost to Build a Pool Cabana?
While a simple wood frame and cloth roofed pool cabana could be built for a couple of thousand dollars, to deliver the level of luxury akin to a resort cabana the investment should be on par with a small home addition. Depending on the envisioned footprint of the pool cabana, a product like our R-Shade or R-Blade pergolas may be the ideal solution. Another option that defrays some of the louvered pergola cost is our Azenco K-Bana. Our customizable modular aluminum cabana can be crafted into just about any footprint, and pool owners can then select from an assortment of design options from telescopic sliding walls, a motorized louvered roof, or integrated privacy screens. Since the award-winning K-Bana leverages our self-leveling post bases rather than traditional footings, it can often be erected without the need for a building permit, further limiting project costs.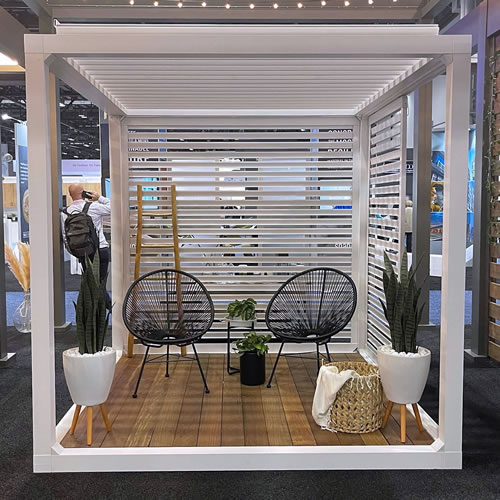 ---
Conclusion
If you are looking to bring your poolside entertainment venue to the level of your favorite luxury resort, then a smartly-designed poolside cabana is the ideal solution. If you would like to explore the design possibilities of our aluminum pergola and cabana lineup, reach out to us.
---