Earlier this year, we were delighted to announce Azenco was expanding its commitment to sustainability throughout our operations, as well as with a new partnership with 4ocean to remove tons of plastics from our world's oceans and waterways. With today marking World Ocean Day, we are excited to announce that our partners at 4ocean, an ocean cleanup company dedicated to ending the ocean plastic crisis, have helped Azenco reach the midpoint of our goal to remove 25,000 pounds of plastics from our waters!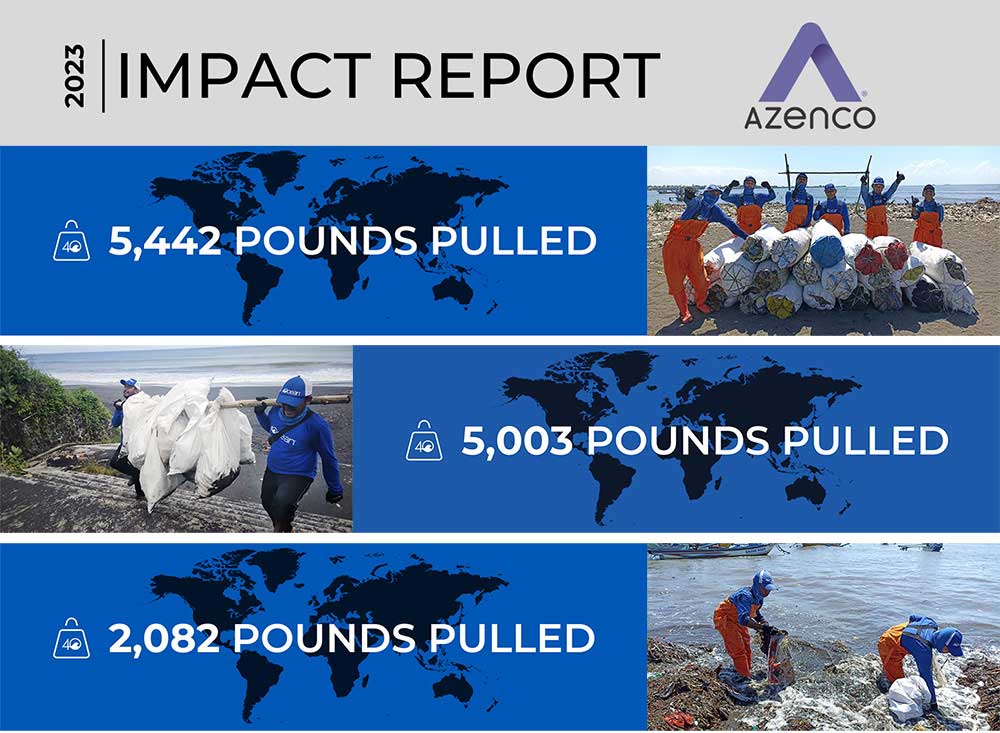 In March 2023, we became a 4ocean Certified Cleanup Partner and committed to this year-long goal. Today, we are excited to announce that in just the first few weeks of our partnership, 4ocean captains and vessels have already removed 12,527 pounds of plastic debris with the funding Azenco has committed! More specifically:
The first crew removed almost 5,500 pounds from Selabih and Melaya beaches in Bali and cleared a portion of the Ijo Gading River in March.
Another crew cleared a stretch of the Bago River in Indonesia, extracting more than 5,000 pounds of plastic waste at the beginning of May.
The last mission removed more than 2,000 pounds from the beaches around Banyuwangi in Java at the end of May.

You Can Boost Our Investment in 4ocean: Follow us on Social Media
Here at Azenco, we've committed to donating $25,000 to 4ocean in 2023. That's a dollar for social media engagement we receive  for every pound of plastic the teams remove from our waters. But, you can push that total even higher simply by engaging with us on your preferred social media pages!
All you have to do is follow us on Instagram, LinkedIn, Facebook, Pinterest or YouTube. 
Each time you like, comment, reshare, subscribe, etc. we will make a one-dollar donation to 4ocean. We'll be sharing more exciting benchmarks for our continued sustainability commitments on these pages too, so follow us to get the latest updates.
Investing in Greener Operations
Our partnership with 4ocean is another extension of the holistic Azenco commitment to improve our eco-footprint. In addition to the reactive efforts with 4ocean, we have also invested in making our operations as green as possible. We've purchased new, more energy-efficient manufacturing machines for our operations, upgraded our aluminum cutting machines to limit material waste, and initiated an aggressive aluminum capture and recycling effort. We've also designed more sustainable product packaging, improved logistics to reduce carbon emissions in our deliveries, made our offices paperless, and added solar generators to the roof of our Miami facilities which now operate on 100% solar energy.