Miami Dade County Weather
Located in South Florida, Miami is known for its hot and humid tropical climate with heavy rains and strong winds in the summer and the drier heat of the warm Florida winters marked.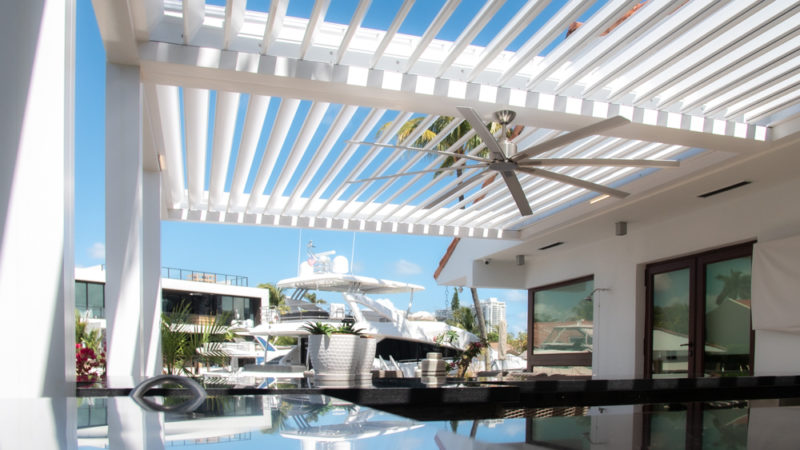 If you love spending your hours lounging around on the back deck, you need a covered terrace to keep you safe from the extreme Miami sun and heavy rains.
Miami, FL: An Outdoor lifetsyle
The South Florida lifestyle is defined by a relaxed and laid-back culture with a luxurious outdoor nightlife, BBQ parties, beachside bonfires, and poolside gatherings. If you're big on outdoor parties and have a lovely spacious outdoor area, a modern pergola or a louvered roof on the patio would be perfect for you.
Azenco outdoor patio covers and pergola designs are built in a modern, European style with elegant functionality that enhances your outdoor lifestyle. You can find numerous models, options and materials to complement your personal tastes and architectural style. These temperature-regulating pergolas can be freestanding or attached to existing structures to provide a convenient weather barrier for sun, wind and heavy rain.
Azenco's pergolas are the best for weather-control in Miami, FL.
Miami is well-known for its repeated pounding by tropical storms and huirricanes. If you're live in tropical locations like Miami Beach,FL., Doral, FL, or Palmetto Bay, FL, Azenco's pergolas with louvered roofs and sandwich panels can save you from incurring significant damage in the high-wind events.
Expert technicians design our pergolas for windy areas with some of the latest high-precision tools to fit any lifestyle, budget, or outdoor setting.
If you want to live life outdoors like a true Southerner and enjoy your sunroom or patio lifestyle, then adding covered outdoor dining spaces with Azenco technologies will be highly functional and look good doing it.