Broward County, FL Weather
Fort Lauderdale in South Florida has warm winters and extreme heat in the summer. The area is also prone to torrential downpours and hurricanes, especially in the fall.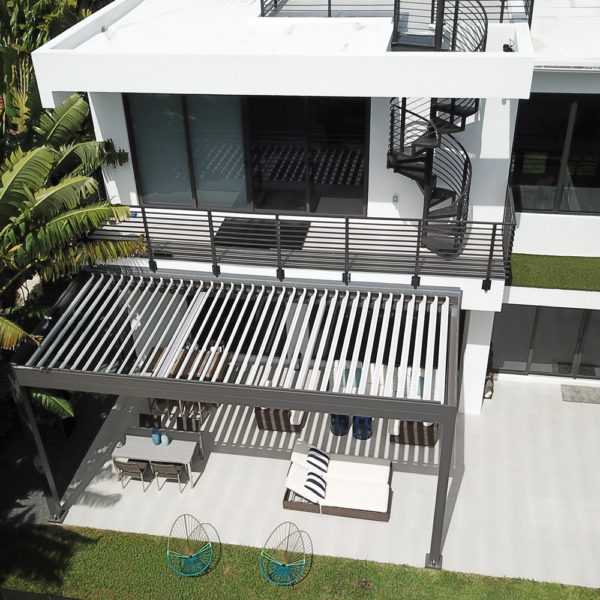 Whether you're looking to spend your day soaking in the sun on the porch or hosting dinner parties, it would be wise to invest in a pergola to stay safe from the elements.
Pergolas in Fort Lauderdale area
If extensive heat and winds in the Fort Lauderdale area are limiting your open-air sunbathing, especially from September-November when the extreme tide levels may limit beach space, a hurricane-rated pergola may be beneficial for you.
Trusted louvered roof companies in the Fort Lauderdale area, like Azenco, can offer you a high-quality, well-built, and elegant cabana or pergolas. These overhead structures can keep you safe while you enjoy an outdoor sunny day even when the afternoon thunderstorms pass through.
Azenco's pergolas are the best for South Florida weather
Pergolas can be built with different materials and in a variety of sizes to fit any outdoor space. Popular materials choices include aluminum, steel, fiberglass, and vinyl. If you live near the ocean, aluminum structures should be your go-to choice of material. Properly poweder-coated aluminum won't rust, is light-weight, and stays resilient under heavy weight.
Whether you are looking for a modern pergola, cabana, louvered roof, or any other outdoor patio cover in Broward County, check out Azenco outdoor cover solutions.
Made in South Florida with European design, Azenco's hurricane-rated outdoor covers provide a range of outdoor products that drain water away from the roof and prevent leakage. They are also ideal for popular South Florida outdoor living areas such as patios, decks, sunrooms, driveways, backyards, outdoor kitchens, pool decks, and spas.
Be it Coral Springs, FL or Hallandale Beach, FL if you would like to add a backyard patio cover, please contact your nearest Azenco International Technologies in Broward County. Get in touch with us today to choose a modern, elegant pergola to enhance your outdoor lifestyle.