Sarasota County, FL Weather
Sarasota, FL has a sub-tropical, humid climate with hot summers and warm winters. It's tropical monsoon climate features long periods of heavy rains and strong winds from June to September.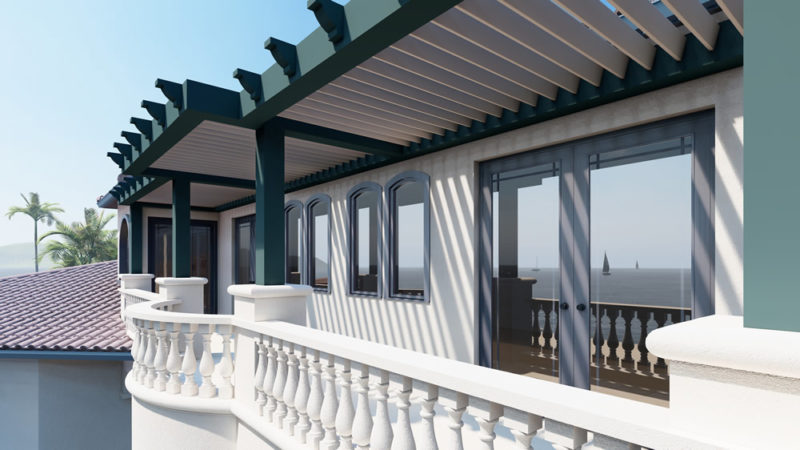 Whether you're looking to spend your day soaking in the sun on the porch or hosting dinner parties, it would be wise to invest in a pergola to stay safe from the elements and the party never stops.
Pergolas in Sarasota area
The Sarasota area is a haven for outdoor sports activities, with golf being amongst the most popular. After a hot day on the golf course, our beautiful bioclimatic pergola with a louvered roof can be a great place to relax and cool down. It can accommodate a wide seating area which is ideal for spectators to sit and watch a game. It can also accommodate a dining area which can be perfect for hosting birthday parties and weekend barbecues.
When searching for the perfect outdoor structure, there are plenty of options you can incorporate into your patio lifestyle. Gazebos and cabanas provide plenty of shade and are a brilliant way to add striking aesthetics to your deck.
Azenco's pergolas are the perfect choice for Sarasota County, FL weather
Nothing adds value, style, and color like a modern pergola. Where a sunroom has enclosed walls and solid roof, a pergola features louver blades in the roof to allow for cool air circulation. Pergolas are also sturdy structures made of materials like aluminum that can withstand the impacts of hurricanes and heavy rains. You can even customize your residential pergola roof with climbing flowers and vines to add fragrance to your outdoor space. Our R-Blade pergolas not only help improve air circulation, but it features integrated gutters to prevent rainwater accumulation and wind sensors to automatically adjust the roof during strong winds.
Make Your outdoor lifestyle better in the Sarasota area with Azenco. Contact us today and choose your style of pergolas.