The best part about living in Orlando the opportunity to enjoy the numerous lake-side settings all year round. However, August through October are the wettest times of the year, often bringing  heavy downpours.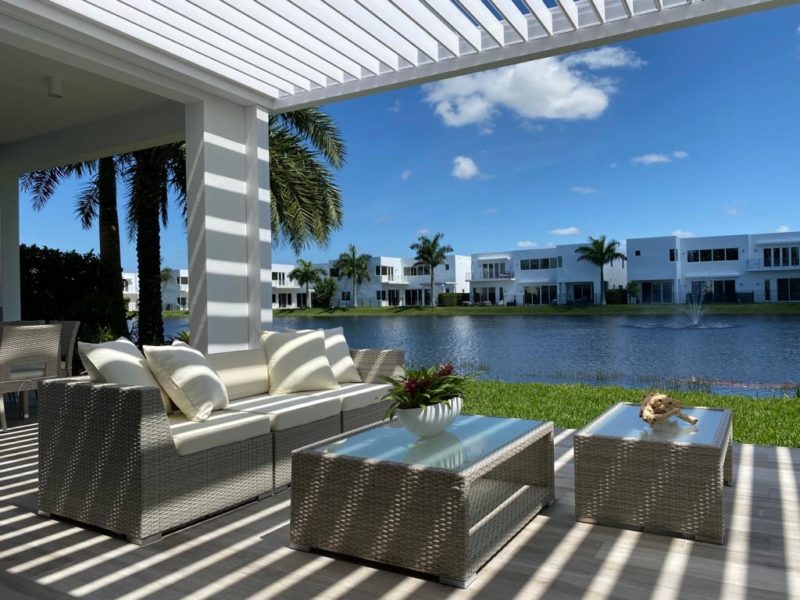 If you love spending hours in your backyard, you need a covered terrace to keep you safe from the constant battering sun, unpredictable weather and heavy rains.
Living under the pergola in Orlando, FL
Orange County, downtown Orlando in particular, is famous for its nightlife filled with concerts, night-clubs, restaurants, and post-game celebrations. The raucous downtown neighborhoods are entrley different vibe compared to residential Orlando, where architecture of the 1920s earned it the nickname "the City Beautiful." Throughout Orlando and much of central Florida towns like Windermere, FL., you'll find lush, expansive outdoor lifestyles often below picturesque canopied oaks, or at casual lakefront bungalows with covered patios.
However, homeowners hesitate to host poolside parties or outdoor gatherings during the rainy month, a terrace shelter or pergola to provide shade on the can make garden parties a year-round activite without worrying about sudden rain. When it starts to pour, you pour some more and enjoy the view with your friends and family from below your weather-sealed pergola.
Our R-Blade temperature-controlling pergola features a louvered roof that opens and closes either manually or when the integrated sensors see the first drop of rain. These are perfect for nights when you want to have an intimate gathering and want to open the blades for air ventilation, then close them for daytime parties or amid sudden rain showers.
Azenco's pergolas are perfect for Orange County, FL lifestyle
Azenco's contemporary pergolas are perfect for your deck or patio. With a  wind-resistant design made entirely of aircraft-grade extruded aluminum, Azenco pergolas and are strong enough to resist heavy wind and prevent leaking when the roof is closed.
One of the biggest advantages of living in Orlando, FL, is the outdoor lifestyle. To ensure this lifestyle is uninterrupted even in the roughest weather conditions, think about getting a modern pergola installed this season! View our range of pergolas and cabanas or contact us for more information.