Our brand new outdoor structure, the K-Bana, 2020 Vesta Award winner, has been featured in Hearth & Home Magazine (April 2020).
The K-bana is a 10ft x 10ft powder-coated aluminum structure with two color options. It comes with a floor base that can be covered with all types of floorings (tiles, wood, concrete, fake grass, etc).
The roof and/or the walls can be equipped with sandwich panels for full insulation or manual twin-wall o fixed louvers for better ventilation and shade control.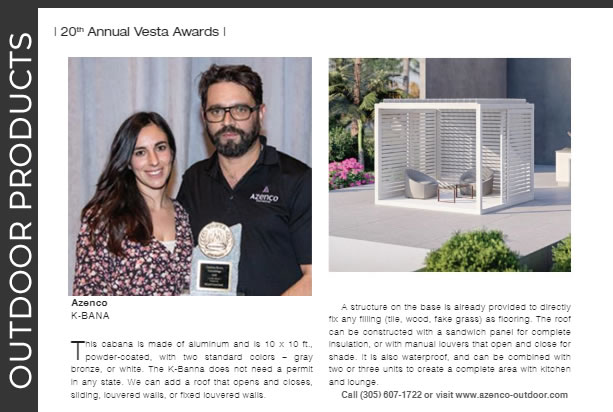 The cabana is waterproof and several modules together can create a larger space for an outdoor kitchen or a relaxing sunroom.
Our innovative outdoor module is easy to install in just a few hours and it doesn't require a permit in any state. We created this modular structure with a contemporary lifestyle in mind. Homeowners can move the module to their new house just like any other furniture.