Palm Beach County Weather
The area is prone to torrential rains and heavy downpours. It has a tropical climate with hot and humid summers and warm winters. The wet season occurs from May through October, which often sees thunderstorms and hurricanes.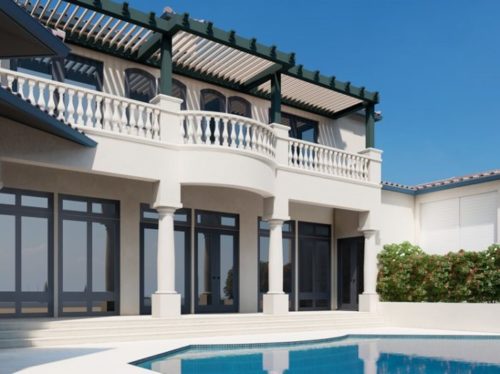 Luxury outdoor living lifestyle
Palm Beach has long been a vacation getaway spot for tourists worldwide. Known for its irresistible beaches, golf resorts, and huge, serene beach houses, Palm Beach is also one of the most expensive places to live in Florida.
Install a pergola in Palm Beach County, FL
There is no denying the scenic beauty of the beaches here. When you're not surfing or sunbathing, you can get away to private sun terraces and enjoy the views from beneath your high-end pergolas. People here love the party lifestyle, hosting cocktail parties, playing their DJ sets, and attracting the glitterati.
To make a Palm Beach home perfect for hosting parties, it is a good idea to install a luxury modern pergola, cabana, or a louvered roof outside. Given the intense heat waves, a louvered roof for West Palm Beach, FL, that is hurricane-rated and includes proper drainage to prevent water collection, will be ideal for hosting your guests. A louvered roof can be a standalone structure or attached to existing edifices in the patio, yard or anywhere else you need convenient protection from sun, wind and heavy rain.
Azenco's luxury pergolas in Palm Beach County
Check out the R-Blade pergola from Azenco. It is a temperature-controlling pergola with a louvered roof that provides protection from heat and rain while its blades create a natural ventilation system. The louvered roof also opens and closes should harsh weather conditions roll in as they often do in Beach Gardens, FL. The R-Blade pergolas can also can also incorporate high-tech sensors to automate the louver operations.
Azenco offers various high-end modern pergola models from its R-Shade fixed-rood pergolas and R-Blade adjustable louvered roof pergolas, to its K-Bana modular cabanas, all of which are ideal for South Florida outdoor living areas such as patios, open decks and covered decks, outdoor kitchens, pool decks, and spas. We also offer a variety of options, materials, and finishes to fit in with diverse architectural styles.
At Azenco, we design high-end luxury structures that can easily endure Florida's harshest weather conditions while enhancing every aspect of the end user's experience. You can trust us to provide you with a seamless pergola-installation experience.