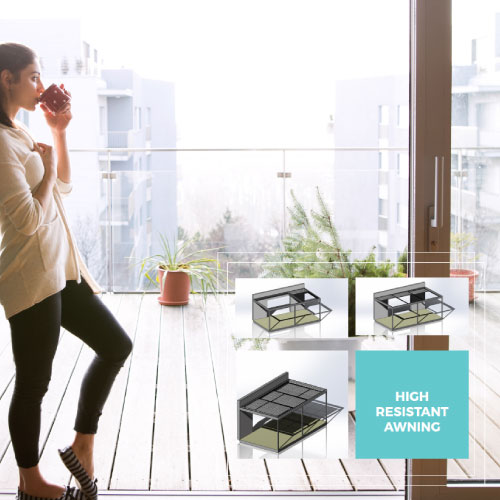 STAND AGAINST A WALL!
for all types of patio
Installed up against your wall, the R-Wind awning provides protection from both rain and sun.
The perfect way to enjoy your patio in cooler weather, it will protect your furniture from leaves and rain and make your alfresco lunches that much more comfortable.
MULTIFUNCTIONAL AND BUDGET-FRIENDLY PROTECTION
The R-Wind awning is an extremely convenient solution, allowing you to take advantage of your garden earlier and later in the year. Lunch outdoors in the first rays of spring sunshine, a moment of relaxation in the open air… now you can!
VERY EASY TO ADAPT
The R-Wind can be installed up against your wall, or used as an annex.
BEAUTIFUL MATERIALS
The roof is made from 8mm cellular or 4mm solid polycarbonate with ultra-resistant UV protection on both sides. It comes with a 25 year guarantee for yellowing, loss of resistance and hail damage. The supports are made from Qualicoat Qualimarine thermo-lacquered aluminium and also have a 15 year guarantee.
ALL OUR OUTDOOR SOLUTIONS