[/row]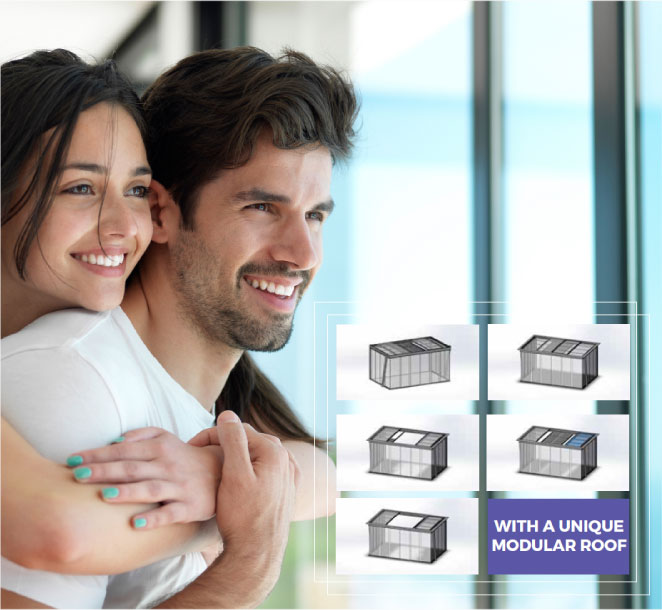 LET THE LIGHT COME IN!
for all types of patio
The R-Sky pergola is the only pergola on the market to offer a modular roof, meaning that you can open both the sliding doors and the roof when you want to… This system allows you to use your patio in summer and winter, whatever the weather. As soon as the first frosts loom, you'll be able to protect your furniture and plants, and when the weather turns warm again you can open the roof and bask in the sun.
FULLY OPENED ROOF
This open-air Azenco innovation is a fully modular solution. You choose when to open or close the roof, allowing you to enjoy the sun and stay protected if you need to.
EASY TO USE
The central opening for the roof can be activated extremely easily, and both manually and automatically. It offers a range of different options to protect your patio.
A MODERN DESIGN
Standard colours : white (RAL 9016) or dark grey (RAL 7016)
ADAPTS TO ANY TYPE OF PATIO
With mobile or static patio doors, the R-Sky pergola is available as a supported or fully independent system.
HIGH QUALITY MATERIALS
The Qualicoat Qualimarine aluminium supports and the grey finish add a little extra elegance to your pergola. The polycarbonate roof has UV protection on both sides. The walls are made from transparent polycarbonate, but are also available in safety glass.
ALL OUR OUTDOOR SOLUTIONS